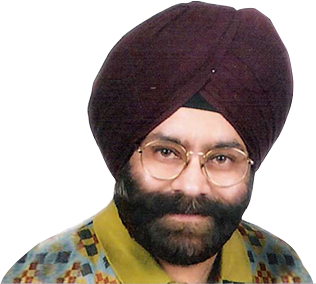 Dr. Birinder Sachdeva
Specialist in Cosmetic Dentistry & Oro Facial Pain
QUALIFICATIONS :
B.D.S. From Punjab Govt. Dental College Hospital, Amritsar in 1980.
1 Yr. Jr. Resident in Dept. of Dentistry, PGIMER, Chandigarh in 1981.
Post Graduate in Cosmetic & Aesthetic Dentistry from Baylor College of Dentistry, TX, U.S.A. in 1995.
Post Graduate in Cosmetic & Aesthetic Dentistry from David B. Kriser Dental Centre, New York University U.S.A. in 1999.
DESIGNATION :
Managing Director, Smile Innovators Pvt. Ltd.
First ISO 9001-2000 Certified Multi Specialty Dental Center in North India. Equipped with state of the art dental equipment and imported biomaterials. Provides specialized painless treatments in the fields of Endodontics, Restorative & Conservative Dentistry, Oral surgery, Prosthodontics, Orthodontics and Cosmetic Dentistry.
ADVANCED TRAINING IN COSMETIC DENTISTRY FROM :
New York University, NY, USA
Ivoclar – Vivadent, Liechtenstein, SWITZERLAND
Coltene – Whaledent, AUSTRIA
ESPE – Premier, GERMANY
Den-Mat, Santa Maria, CA, USA
Clinical Research Associates, Provo, Utah, USA
Ultradent – Salt Lake City, Utah, USA
The United States Institute of Implant Dentistry, NY, USA
Dept. of Endodontics , Tufts University, Bosto, MA, USA
PUBLICATIONS :
Published several articles on
Smile Designing, Cosmetic Dentistry & Dental Healthcare
in the following newspapers :
The Tribune
Indian Express
Hindustan Times
Writer of the column 'Toothy Truths' published in The Hindustan Times
Research articles in journals, latest in the
Journal of International College of Dentists. TV & All India Radio (A.I.R.):
Many programmes on Cosmetic Dentistry from D.D.K. Jalandhar, A.I.R. Jalandhar & A.I.R. Chandigarh.
HONORS, FELLOWSHIPS & AWARDS :
| | |
| --- | --- |
| PRESIDENT : | Indian Society of Dental Aesthetics (ISDA) |
| DIRECTOR : | Northern Institute of Continuing Education & Research (NICER) |
| DIRECTOR : | Indian Institute of Medical & Dental Sciences |
| Gen. SECRETARY : | The Global Education Promotion Society of India (GEPSI) |
| ADVISOR : | Research Board of Advisors, American Biographical Institute, Inc. North Carolina, USA |
| EX. PRESIDENT : | Indian Dental Association, Mohali Branch |
| EX. CHAIRMAN : | Dental Practitioners Society, Chandigarh |
| EX. Jt. SECRETARY : | Indian Dental Association, Haryana State Branch |
| EX. VICE-PRESIDENT : | Indian Dental Association, Panchkula Branch |
| FELLOW : | International College of Dentists (USA) |
| FELLOW : | Pierre Fauchard Academy (USA) |
| AFF. MEMBER : | American Dental Association |
| MEMBER : | American Academy of Cosmetic Dentistry |
| MEMBER : | American Academy of Facial Esthetics |
| MEMBER : | Academy of Craniofacial Aesthetics in India |
| LIFE MEMBER : | Indian Society for Dental Research |
| MEMBER : | All India Freelance Journalists Association, Chennai |
| EX. MEMBER : | Board of Consultant, "Indian Journal of Clinical Dentistry" Published by I.D.A. Pb. State Branch |
| DEPUTY DIRECTOR GENERAL : | International Biographical Center, Cambridge (England) |
| National Coordinator : | International Conference on Cosmetic and Aesthetic Dentistry held at Mumbai in I996 |